Helloooooooo
As I mentioned in last week's post (or maybe not?), I cut it pretty close with my deadline with book 9. My goal is to post about my weekly read on Mondays, so ideally I would be done with my books on Sundays. But because I am not a slow writer (mostly because I am not a perfectionist in my writing and have yet to revise one of these posts) I can get away with being done with a book on Monday. This is what happened last week. I finished the book about 20 minutes before going to sleep. This is NOT ideal.
When I picked this week's read, Yes Please by Amy Poehler, I was worried about my deadline again. This book was heavy (physically not necessarily in content) and pretty thick. I'm not a fast reader by any means, so I wasn't sure this was a good call. But this book has been on hold since my library brought it and I knew I would be annoyed at myself if I put off reading it. I mean someone else was eagerly awaiting this read!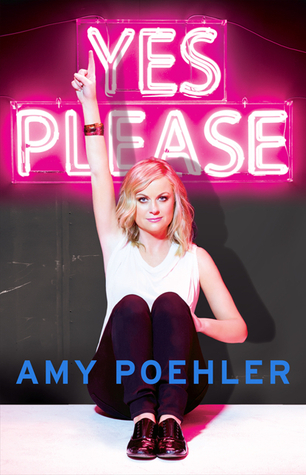 So how did I read this >300 page book in less than a week with a full time job and a very full social schedule (because being physically alone might lead to feeling lonely and I did not feel like dealing with that!). The same way I do everything else. The same way every one accomplished tells people to achieve things. I made time for it. I had gotten in a rather annoying (to me, not to others) habit of watching Friends on Netflix whenever I had nothing to do. I am not against watching TV. I have a few shows that I watch pretty religiously. I have a few shows that I watch with specific people. But I try not to let TV viewing become my go-to-thing. As this blog indicates, I have a lot of other things I want to accomplish with my time!
But I had been letting that happen again. So I had to rein the Friends viewing in. I took at least a half an hour before I went to sleep every day to read my book. This weekend I spent most of my downtime reading instead of watching TV. That's not to say I didn't manage to do other things. I skyped with my whole family. I went for a long run. I explored the city with a group of my friends. And I read about 200 pages of this book. In fact I finished it early this morning. I've already returned it to the library for the next reader to enjoy!
So that's my advice to you! Whether you want to read more books, work out more, do more crafts, develop a new skill, or anything else really you have to set yourself a goal and you have to make time for it. Not necessarily a lot of time. Most of us don't have as full a schedule as we like to think we do. But if you are one of those rare people that really has absolutely no free time and still feels like you're not accomplishing your goals, I advise you to reprioritize. Maybe you need to cut some things out in order to accomplish what is truly important to you. That is your call!
As for a quick review of this book, what can I say? It's Amy Poehler. I didn't like it as much as I liked Bossypants but it still made me laugh. I took a lot from it. I have some new quotes saved on my phone to help me get through this cloud. Probably my favorite aspects was reading about Amy's and Seth's friendship and reading about all the hard work that Amy (and all these successful people) had to do to get where they are. It's hard to be mad reading about a good friendship. And I loved the fact that Seth shared his own perspective on Amy in this book. It's also hard to get mad when you find out that someone had to work really hard to achieve their success. Hard work, not just by Amy, but everyone she worked with and respects, is a big motif in this book. You have to work hard to achieve your dreams. Sometimes you have to make hard decisions. I'm not the best at making the hard decisions, but I'm going to work on that!