I finished this book on Tuesday 12/23, I just kept putting this post off because, you know, vacation and stuff.
I was honestly unsure that I would make my book a week deadline this week around. I told my boyfriend about my goal for the year + month and he suggested I read Clifford the Big Red Dog and other children's books. He's a goof that way. He's also not the biggest book reader so I think this astounded him. But the next morning when he wanted to play Call of Duty I think he was happy to see that I had something to keep me busy.
Anyway, as you may have construed, this book was not the quick read that Book 1 and Book 2 were. This week I chose to read The Cuckoo's Calling by Robert Galbraith. When I came upon this title I was obviously excited to learn that Galbraith was a pseudonym of J.K. Rowling's. I was one of those people that fell head over heels for the Harry Potter books. While I did preorder the books as they came out, and read them as quickly as I physically could, I was not as hardcore as some of my other friends who have reread each book multiple times and have all the characters and plotlines memorized. Nontheless, I was excited at the prospect of reading something new by J.K. Rowling (I did not read The Casual Vacancy, it didn't interest me for some reason).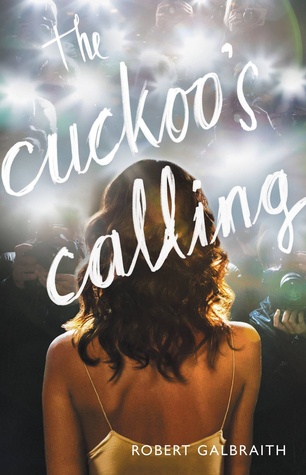 This book is a pretty classic mystery. It was slow to start, a lot of background story about the characters that didn't seem the most important. This is the first book in a series though, so maybe that becomes more useful in the following books. The mystery itself was good. The book did a good job of building up to the end, without giving too much away. The end seemed pretty rushed to me.
Reading this made me contemplate what it was about Harry Potter that I, and so many others, adored. I do think the writing itself was good, and the storylines definitely drew readers in. But thinking about this made me realize, that more than anything, it was the world J.K. Rowling created that attracted me so. She made a world that was completely magical, but worked it into the real world so well that it was just something I wanted so badly to believe. So while the plot line in this book was to my liking, there wasn't that something special that just made me keep reading as if her words were the oxygen I needed to breathe.
I'm not sure I'll be reading the next book in this series, I'm definitely not jumping straight to it as I just picked up four books from the library for my holiday travels. I figured it wouldn't hurt to have some buffer in case I got a couple weeks that I just couldn't read. My boyfriend told me this doesn't count as a book a week, but rather as 52 books in a year. I corrected him to 56 (thanks December) and threw a sneer his way. He seemed thoroughly amused by all this.