On Sunday I woke up feeling less than stellar thanks to some poor decisions made Saturday night. After chugging a glass of water, taking an aspiring, and failing to fall back asleep I decided to give my second book, Paper Towns by John Green another go. Oddly enough, I decided to read this book because the same blogger mentioned in my previous 56 Books in 56 Weeks post, wrote about the casting of the upcoming movie.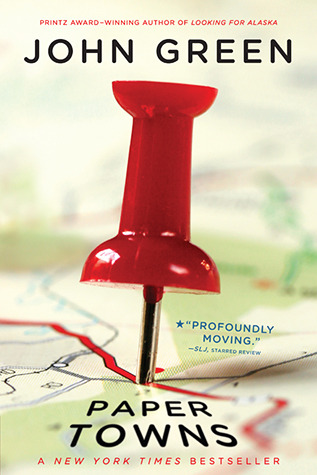 Honestly, I promptly picked this book up the Monday after I finished book 1, but I was really struggling to get into it. It felt slow and almost pointless at first, and I wasn't sure how I felt about the characters. By Sunday I was reaching my deadline of one week to read and decided there was nothing that would improve my bodily state than lying in bed and reading. Which is precisely what I did for about 5 hours.
It turned out I really liked the book. Unlike my previous read, at the end of this book I felt like a weight had been lifted off my shoulders. In one of the least kitschy ways possible, this book made me believe in the possibility of love and relationships. I was also surprised to read a book from the male perspective. I wasn't expecting it firstly because I feel that many young adult books are told from the female perspective, and secondly the whole strong female lead seems to be very popular among writers, and readers (like myself) ever since Hunger Games became a hit.
All in all, I'd say it was a fun quick read. Maybe something good for a beach, or a cozy day in. I don't know that I'll be running to the theaters to watch the movie, but I'll probably pay the three bucks to watch it on my TV when it comes out in that forum.
Anyway, in an effort to make this blog more organized, I'm going to start posting about my weekly readings promptly on Mondays. I'm really looking forward to this next read. It's a bit longer than the first two, and I haven't started it yet (oops), but I'm hoping it'll be a quick read.
If anyone has recommendations for book 4 (or any of the following books) please post in the comments below.